Rates And Deposits For Our Nantucket Inn
Your 'all-inclusive' room rate includes your lodging, Continental breakfast, all day coffee/tea and snacks, afternoon tea and fresh-baked cookies, daily housekeeping service, Wi-Fi and parking (as available).
Stays of three nights or less require 100% pre-payment when booking. Stays of more than three nights require 50% pre-payment (with a minimum deposit of three nights), with the balance due on arrival.
In the case of more than two occupants in a room, there is an additional charge of $35 per person per night; there is no charge for children under 2 years old.
A lodging tax of 11.7% applies.
Minimum Stays
During Peak Season, between Memorial Day and Columbus Day, a three-night stay on weekends and a two-night stay on other days may be required. For weekends, the three-night minimum could be Thursday, Friday, Saturday; Friday, Saturday, Sunday, or Saturday, Sunday, Monday.
All other reservations in Peak Season require a two-night minimum stay.
The Effect of Covid On Cancellations
In this post-COVID time, we have relaxed our cancellation policies on a case-by-case basis. These changes include reduction in the cancellation fee, and offering incentives when using the deposit for a cancelled reservation on a future stay. We have always suggested travel insurance (see below) to protect your investment in your holiday and reinforce that suggestion during this uncertain time.
Cancellations
Because of our size and location, cancellations have a significant effect. For any cancellation or change of dates, we must receive notice 14 days prior to scheduled arrival. With timely notice, you will receive a refund of your deposit, less a 10% cancellation fee calculated on the total room charges. You are responsible for any partial or full cancellation, or change of room dates, made less than 14 days prior to scheduled arrival unless all your room nights can be re-booked. You are welcome to transfer your reservation to a friend or family member.
For group bookings or reservations related to blocked rooms, notice of cancellation must be received 30 days prior to arrival.
Storm Policy
If the ferries operate, we expect guests to arrive as expected whether or not they planned to arrive by ferry or plane. The decision regarding whether or not a particular ferry will run is based on the decision of the ferry captain, his Coast Guard license, and the safety of its passengers. If all ferries have been cancelled on a given day, then a voucher towards a future stay will be issued for that night's lodging. Travel delays, missed connections from airports, or any other travel issues will not merit vouchers. These potential unforeseen problems are best addressed with travel insurance, which we recommend.
Travel Insurance
We realize that cancellations are sometimes beyond your control, and, for this reason, we recommend purchasing travel insurance for peace of mind and to protect your investment in your Nantucket holiday. The Brass Lantern Inn will supply your travel insurance company any documentation or information regarding our cancellation policy and your reservation. Although we do not offer travel insurance directly, the Wall Street Journal recommends the following:
Check-in and Check-out Times
Check-in time is normally 3 pm; however, if you arrive earlier, we are happy to store your luggage and will call or text you when your room is ready for check-in.  Please let us know your expected arrival time and if you will arrive after 8 pm.
Check-out time is 11 am; you may store your luggage at the Brass Lantern Inn while you enjoy your last day on Nantucket.
Children
The Brass Lantern Inn is family friendly – several of our rooms accommodate three or four guests, and we provide pack and plays for infants at no charge.
Pets
The Brass Lantern Inn is a pet friendly Nantucket hotel and welcomes well-behaved dogs up to 65 lbs. in size (and their well-behaved people) in our pet friendly rooms with the following expectations:
No more than two dogs per room
Dogs should not be left alone in your guest room for long periods – after all, they are on vacation too!

If your pet is crate-trained, and you are not bringing your crate, please let us know and we will reserve a Brass Lantern Inn crate for your pet

Any damages caused by your pet will be added to your bill
We want to maintain a safe and hospitable environment for all of our guests. Accordingly, the following dog breeds (or breed mix) are not allowed:

Dobermans, German Shepherds, Rottweilers, Great Danes, Pit Bulls, Boxers, Alaskan Malamutes, Huskies, Bull Mastiffs and Wolf Hybrids

Dogs must be on lead while at the Brass Lantern Inn – in the Brass Lantern Common Rooms, and on the Garden, Patio and Pet Run
The pet fee is $25 per day per dog.  In case of emergencies, the Offshore Animal Hospital, as well as a mobile vet, are available.
If you need additional information, please call the Brass Lantern – 508-228-4064.
Quiet Enjoyment
The Brass Lantern Inn welcomes guests – singles, couples, small families, elders, with pets and without. All of our guests come anticipating a relaxing and peaceful holiday.  Please be considerate of your fellow guests when leaving early in the morning, returning late in the evening and in the common areas or on the patio. Quiet hours are from 10 pm – 8 am.
Smoking/Vaping Policy
The Brass Lantern Inn is a smoke-free bed and breakfast, and Nantucket is a smoke-free Island. Neither smoking nor vaping is allowed in the B&B or on the grounds of the Brass Lantern Inn. A fee of $150 per incident will be applied for any smoking or vaping in the building, guest rooms or common areas.
The Brass Lantern Inn is open for the 2022 season – and we are looking forward to a banner year!
Restrictions have been eased although masks are still required on ferries, planes, and busses, as well as in terminals. Conditions may still evolve over the season, so for the latest, please visit the State COVID information page for updates. If you have questions or concerns regarding your stay, please call the Brass Lantern Inn at 508-228-4064.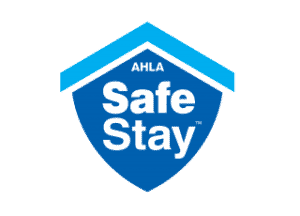 At the Brass Lantern Inn, we have evolved the way we operate post-covid: communication via text message (fresh towels? – done!), and a new way of offering breakfast – no buffets for now but made-to-order continental breakfast trays! Our room decor has been simplified by removing magazines and extraneous material.  Our housekeeping methods – while always thorough and praised by guests – follows the American Hotel and Lodging Association (AHLA) covid-specific cleaning protocols for sanitizing and disinfecting. We are proud to join the Safe Stay initiative, which is designed to standardize the hotel industry's cleaning and safety protocols to ensure both hotel guests and employees are confident to work and stay.
On Nantucket, restaurants (and shops) are open. To increase the amount of outdoor dining space, the Town has closed several streets to create European-style dining plazas for more delightful outside dining. Restaurants are now able to serve inside, and you can also order your lunch or dinner for take-out to dine back at the Brass Lantern Inn on the Patio or in the Dining Room. We will continue to update changes as they evolve.
Nantucket is still here, and a Nantucket holiday this year will offer lots of time exploring the miles of beaches, bike paths and the miles and miles of walking trails in our conservation lands. Did you know that 50% of Nantucket Island is conservation land?
See you on Island – and stay well!