Whether it is your first visit or you frequent the beautiful island of Nantucket year after year, you will want to create new and old memories to cherish for a lifetime. We are always excited to see new businesses come to bloom. Here are 3 island experiences you don't want to miss!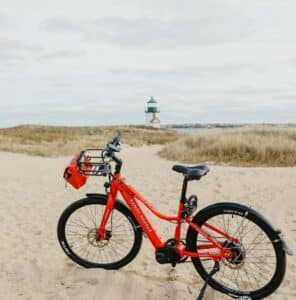 A new activity that caught our eye this year, is Sandy Pedals Bike. This is a great alternative to cruising around island. Sandy Pedals Bicycles is Nantucket's Bike Share program, similar to the nearby cities. It allows for short term rentals, easily accessible to go from one adventure to another. It's as simple as downloading the app, find an available bike closest to you, take a cruise, park the bike, lock it up for the next rider to use! Click to learn more about Sandy Pedals.
Cooking demonstrations are back at the Corner Table. Discover new recipes and cooking techniques by participating in a cooking demo or a Supper Club food and wine dinner event. The classes are interactive, fun, educational and TASTY as well. Downstairs, you will find a cozy cafe, with fresh grab and go items, made to order coffees and sandwiches. The Corner Table Cafe is just a few blocks from Brass Lantern Inn.
SOMETHING TO LOOK FORWARD TO – Many of you were saddened to hear that the iconic island staple, Brotherhood of Thieves closed its doors this year. We went the whole summer season, without the must haves like their classic french onion soup and famous nachos, washed down with a cold beer on tap. We were excited to learn this fall that a microcosm version of Cisco Brewers will be brought downtown, while offering a similar menu as the original Brotherhood of Thieves. While the plan is still in development, we are eager to learn more and welcome the new concept as closeby neighbors.
Whatever the reason, whatever season there's aways something to do on Nantucket.