Footsteps from our door….
The Brass Lantern Inn is located in the Old Historic and Cultural District – and just footsteps from lots of unique experiences. Here are some of our recommendations to make your visit special and live like a local.  And, like a local, you can save on your holiday when you check out our Save in Spring specials that are available until the last day of spring, June 20. Stay two days and save 15%, three days and save 20% on your lodging!
Take a stroll up Step Lane, across the street from the Brass Lantern, to the Theatre Workshop of Nantucket.
Beginning the 24th of May and running through June 15th catch a performance of one of Neil Simon's most treasured works, California Suite. Tickets for both matinee and evening performances are available. The cast stars Kevin Flynn, who has entertained audiences for years with his stand-up comedy performances, headlining at clubs and colleges around the world. Kevin is well-loved  on Nantucket; he is founder and executive director of the annual Nantucket Comedy Festival, which brings national headliner comics to Nantucket Island. Beloved by comedians and attendees alike since its 2008 inception, the event unites an intimate group of people who live to laugh.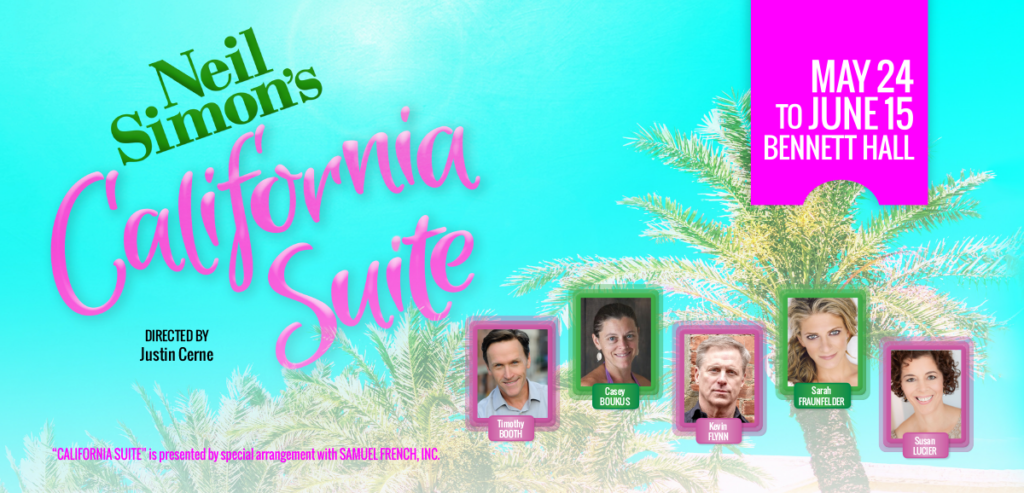 Like to cook? Check out the cooking events at the Nantucket Culinary, just a half block from the Brass Lantern. Don't have time for a class – grab a picnic to go from the Corner Table at the Nantucket Culinary.  Check out our Island Calendar for other ideas including Spring Restaurant Week and the Nantucket Book Festival!
Spring is a great time to come to Nantucket!