Planes, Trains and Automobiles… except it's more like automobiles, planes or ferries, but your adventure to the island could even include a train! A part of planning a visit to the island does include your travel, so we are breaking it down for three of the most popular regions.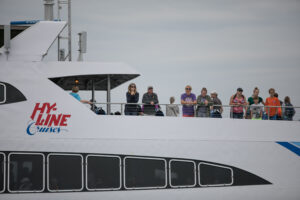 From New York
Skip the traffic – why drive when you can take a boat or plane to Nantucket. SeaStreak is a fast ferry that leaves from East 35th Street or Highland, NJ. Sit back and relax for a nice leisurely ride to NYC to Oak Bluffs, Martha's Vineyard and then to Nantucket. Flying is the quickest and most direct option. United, American Airlines, and JetBlue offer direct flights seasonally to the island from La Guardia (LGA) and JFK airport. Private charters from White Plains, NY through Tradewind Aviation is also an option for those looking for private flights to the Nantucket. If you choose to drive, the drive is roughly a 5+ hour drive to Hyannis, where you can park and enjoy the last leg of the trip on the Steamship Authority or the Hy-line ferry.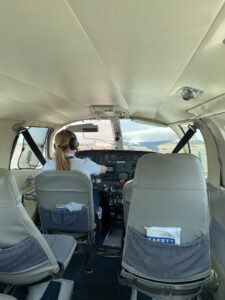 From Boston
If you live in Boston, the visit to Nantucket is an easy getaway. If you choose to fly, Cape Air offers year-round flights from Boston (BOS) and JetBlue has seasonal options available. What we like is how frequent, quick and easy the 45 minute flight on Cape Air is – but you have to like small planes.  By the time you ascend, admire the views from above, and then land, you won't even notice the size of the nine passenger puddle jumper plane. The CapeFLYER's Boston to Cape Cod passenger train service is offered on the weekends with access to bus connections, island ferries and airlines. Taking a bus is another easy alternative to driving. Plymouth & Brockton is a great solution for those wanting to skip the drive and let someone do the driving for you. If you do choose to drive from Boston, it is an easy hour and half – but make sure to time it right and avoid certain times of the day for Cape traffic. That one and half hour drive could easily extend to two hours if you time it wrong. Park your car at the ferry parking lots and take either the Steamship Authority or the Hy-line ferry to Nantucket. For guests who are staying at the Brass Lantern, you can add fast ferry tickets to your reservation, save 10% and we book your passage!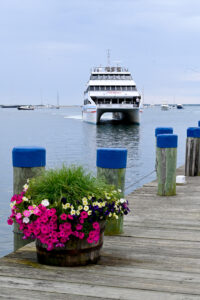 From the surrounding New England States
Whether you are coming from the Coast of Maine or from Rhode Island, there are convenient options for everyone. You can fly out of Hyannis or New Bedford year-round on Cape Air. Flights starts as low as $59 one way! The flight is quick… you would only be able to squeeze in a twenty minute nap. Southern Airway Express, just launched services to Nantucket from New Bedford and Hyannis this summer of 2020 as a seasonal option through October.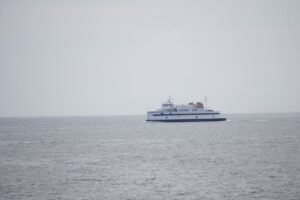 The traditional mode of transportation is the ferry from Hyannis. Driving and parking and then taking either Steamship Authority or Hy-line. SeaStreak also offers fast ferry cruises out of New Bedford, Massachusetts.
There's no wrong way on how to get to the Island, the most important part is just getting here! For more information on how to get to Nantucket, visit our website.