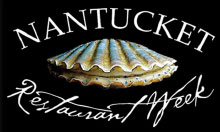 Two weeks each year the restaurants in Nantucket, MA celebrate the culinary arts with Nantucket Restaurant Week. September 25 through October 1, 2017 will be a super time to visit the island. Enjoy the quieter fall season and celebrate the exceptional food, wine, and hospitality at the island's restaurants and here at Brass Lantern Inn.
This is a perfect time to try a new restaurant or dine in an old favorite establishment. There will be at least 30 participating restaurants and most will offer special three – five course dinners at special rates ranging from $35 to $45.
Brass Lantern Inn's location makes it a perfect place to stay for restaurant week. Lanquedoc Bistro is just a 2-minute walk from the inn and has a wonderful selection of menu items. You may choose to dine in the first floor bistro and have a casual supper or dine in the main dining room upstairs for a more elegant dinner. The chef at Lanquedoc uses French cooking techniques using the freshest ingredients that Nantucket has to offer. Using organic, all-natural meats, fish, and vegetables from suppliers such as Niman Ranch, Misty Knolls, and Chatham Seafood, the chef creates splendid dishes for your enjoyment.
Turn right when you leave the Inn, take your first left up Step Lane and, at the top, right on Centre Street until you arrive at American Seasons. Chef/Owner Neil Ferguson has experience at some of the best restaurants in London, in the Burgundy Region of France, and in New York City before moving to Nantucket in 2011. He partnered with Sundip Murthy to purchase American Seasons in 2015. On the menu you will find Rabbit &Foie Gras Terrine, Canneloni of Veal Breast, Roasted Cauliflower Pavé, and luscious desserts such as Peach Trifle. Take a stroll and immerse yourself in award-winning cuisine.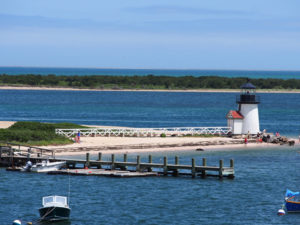 If Italian cuisine is on your mind, walk just 3 minutes to find Ventuno Restaurant. This quote from their website says it all: "Ventuno is romantic & relaxed, affordable & lively, the bounty of Nantucket in Italian hands." From antipasti to dolci, all the ingredients are fresh and many are locally sourced. Imagine the experience of a secondi course of grilled local dayboat scallops & shrimp followed by rum-soaked espresso-chocolate cake, frozen gianduja fudge, nutella, brown butter crumble & hazelnuts. Your leisurely stroll back to Brass Lantern Inn will end a beautiful evening on Nantucket Island.
These three restaurants within walking distance of the Inn are a very small sampling of all the options to explore during Nantucket Restaurant Week. If you want to drive a short distance, you can find wonderful restaurants by the water and perhaps within view of a lighthouse. Check all the participating restaurants and experience as many as possible during Restaurant Week.
Make your reservations at Brass Lantern Inn now to enjoy Nantucket during the early fall season – when the water is still warm, the weather is just beginning to chill and the crowds have dispersed from the busy summer.