Visiting Nantucket, means visiting the beach…and our beaches can be enjoyed year-round! Whether you prefer crisp fall, sweater walks, or spending the whole day, with a beach chair and cooler catching the summer rays, the beach can be enjoyed by everyone. Grab a beach chair and towel (which we can provide), and let's head to the beach!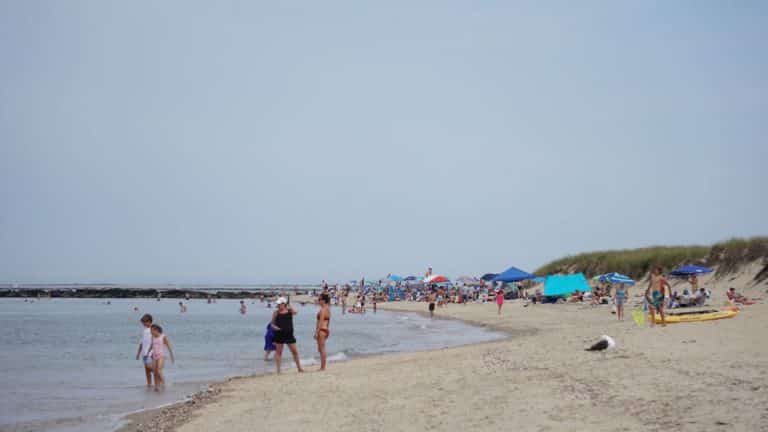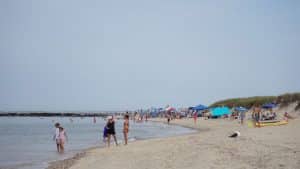 Beaches on the North Shore of Nantucket usually have calmer waves perfect for families with the one exception of Brant Point which can have a strong current. These beaches are the closest to Brass Lantern Inn, which makes for an easy bike ride, drive, or a ride on the Wave Shuttle Bus.
Jetties beach – East bike ride from the inn and perfect for families. Lifeguards, handicapped accessible, a playground, restrooms, and family restaurant Sandbar at Jetties Beach are some of the conveniences.
Francis Street Beach – This small beach is about a seven-minute walk from Main Street. Simple and peaceful.
Children's Beach – The closest beach to the inn and easy to get to by bike. Ideal for families. There are lifeguards, restrooms, showers and food service.
Steps Beach – Lovely views and calm surfs, but to get there, there are many 'steps' (stairs) to the beach. If you go down, you must go  back up!
Dionis Beach- Calm waters for swimming and great for families. Dionis is known for  hard-pack sand and great for finding shells and sea treasures.
40th Pole Beach – Nicknamed "The Bathtub", known for its warm water during the summer months.
Brant Point Beach – Great for watching the harbor activity and as the ferry passes by. Perfect place to take a Brant Point Light selfie!
Washing Pond Beach – Another great family beach. While there are no stairs, you do need to walk up and down a dune path to relax at the beach.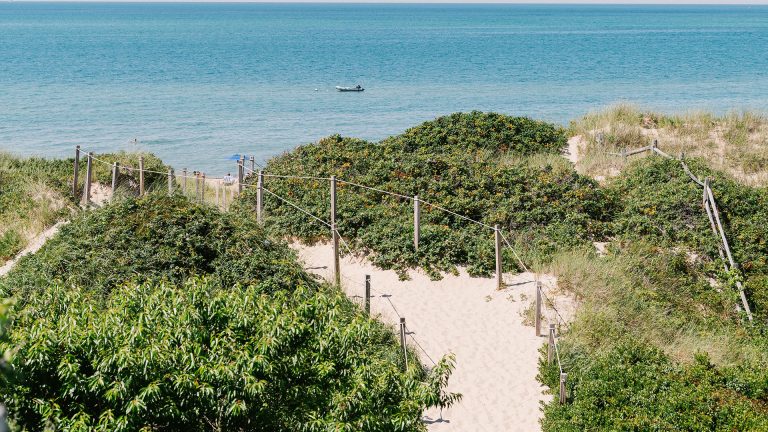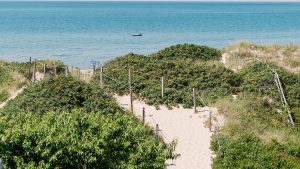 Beaches on the South Shore of the Island, the ocean tends to be a little cooler in temperature with heavier surf.
Stone's Beach – Dunes and surf and perfect for the true beach lover. Steep steps lead down to the beach.
Surfside Beach – One of the most popular beaches on Nantucket. This family friendly beach has lifeguards.
Madaket Beach – Madaket is another popular beach with soft sand. Great for watching sunsets.
Ladies Beach – The strong waves and sandy dunes is the perfect beach for seasoned swimmers.
Low Beach – Sweeping views and private! Seven miles from town, and away from it all.
Tom Nevers beach – Also known as 'Pebble Beach" due to its coarse sand, is the perfect beach for surfing.
Fisherman's beach – Situated right between Nobadeer and Surfside, great for surfing.
Miacomet Beach – Surf and rip currents, located at the end of Miacomet Road.
Nobadeer Beach – There are steep steps to get to, but then worth the walk. A great treat is if a Food Truck is available for a bite to eat.
Miacomet Pond – Fresh water pond, and a great alternative for families wanting to spend time in Miacomet.
Cisco Beach – A popular beach for surfing, with soft sand between your toes.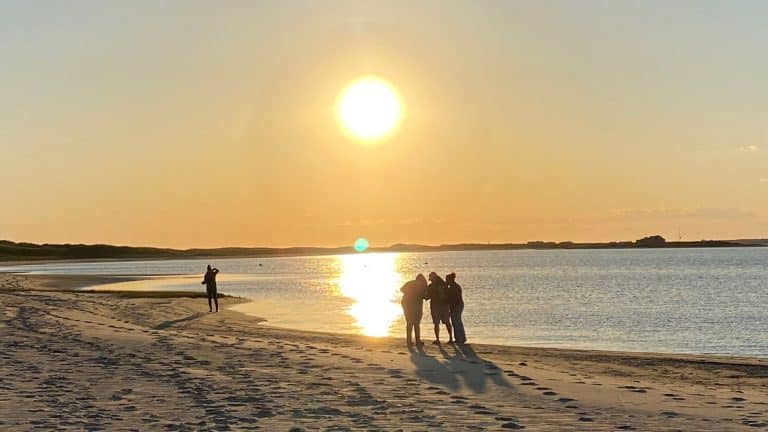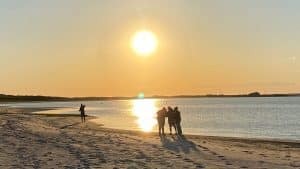 Beaches on the East Shore, provides a little more adventure to get to. Siasconset is accessible by bike path or shuttle bus with limited parking and the outer beaches require beach permits to drive to them and 4-wheel drive.
Codfish Park – Operated by the land bank and offers a playground.
Coskata/Coatue Wildlife Refuge – Accessible by 4 wheel drive and permit only, enjoy soft sand dunes, and the remote location.
Pocomo Beach – Warm waters and perfect for kayaking.
Sconset Beach – Located in the eastern tip, great if you want to spend the day in the town of Siasconset.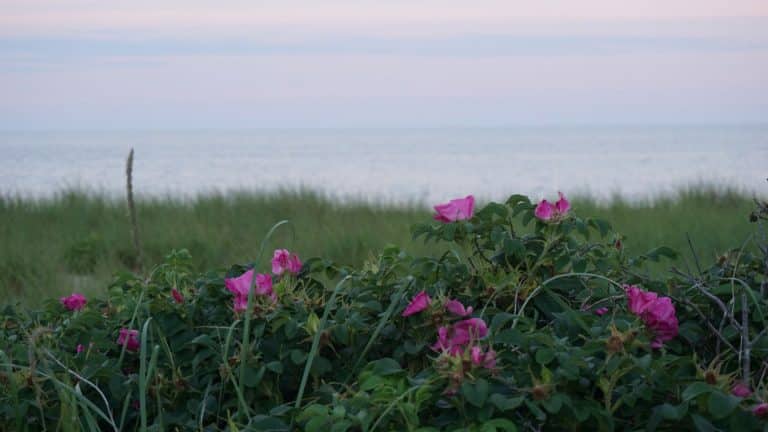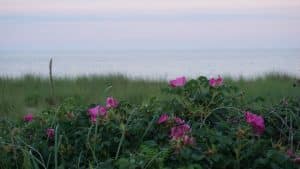 With plenty of beaches to choose from, Nantucket is the perfect beach vacation getaway! For more detailed information, please visit: https://nantucket.net/beaches/.