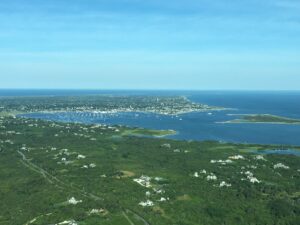 Before you even get off the ferry or plane, traveling to Nantucket makes you forget about the real world, and, upon arrival, you breathe in that salty fresh air and begin to relax.
Known for its perfectly manicured lawns, white picket fences, and picture perfect backdrops,  there's no shortage of scenic spots on Nantucket. We would like to highlight a few of our favorite scenic places you won't want to miss during your visit!
The best way to enjoy these picturesque landmarks is by bike. Rent a bike from Young's Bike Shop for the day, pack a picnic lunch from Corner Cafe, and head out for a day of exploration – with over 35 miles of bike baths, getting there is a breeze. For non-cyclists, hop on the WAVE, Nantucket's shuttle bus service, to travel to all of these places.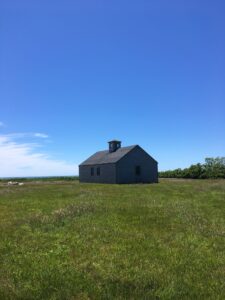 Sanford Farm is a favorite for outdoor enthusiasts and its 780 acres are known for its picturesque trails and beautiful vistas. As you walk the trail it winds around a pond, woods, and fields and your journey will include breathtaking ocean views – you can even walk to the beach! The highlights of the property are the great views of North Head and Hummock Ponds and the historic barn. Sanford Farms is also a very popular off leash dog walk.
'Sconset Bluff Walk, also known as Cliff Walk, is one of the most scenic paths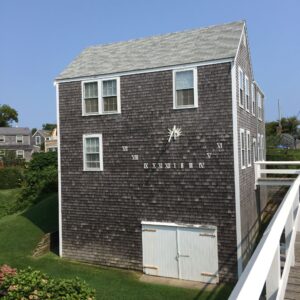 on Nantucket. You will enjoy the picturesque village of Siasconset, adorned with small charming cottages covered in roses along the bluff to the Sankaty Lighthouse. From the lighthouse, you'll see breathtaking views of the ocean, and backdrop of the Sankaty Golf Course. Make sure to stroll over the Siasconset bridge, where you will find a large sundial clock on the side of a house, known as a popular Nantucket landmark.
If you are looking for a one of a kind view of the Island, a visit to Altar Rock is a must. The dirt trail off of Middle Moor, will bring you to one of the highest points on the island. Once you have reached Altar Rock, you will have amazing 360 views. On a clear day, you can see Polpis Harbor, Great Point Light to Sankaty Head Light.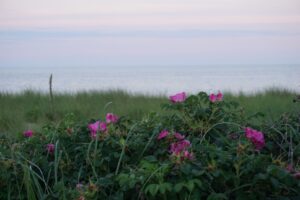 We believe, there's no "bad view" at Nantucket. You'll find every corner you turn, a beautiful scenic spot to rest, have a picnic lunch, and take a few photos. This is what Nantucket is all about!