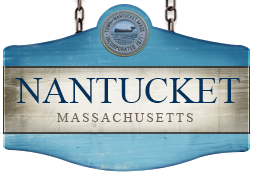 Breathe in the salt air… Walk the cobblestone streets of this classic, old whaling village… Listen to the sound of the ocean's waves on the beach… Watch the sea birds nesting near the quiet waters of the harbor. Choose to be active or choose just to be… It's time for a summer getaway to Nantucket Island, MA.
While there are miles of beaches and bike paths, and lots of activities and historic attractions on Nantucket Island, here are some specific culinary and theatrical ideas to consider for your Nantucket holiday.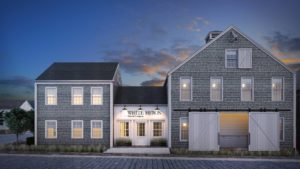 White Heron Theatre Company was originally founded in New York in 2004 but found new life on Nantucket eight years later. White Heron now has a home in the Old Historic/Cultural District – the Brass Lantern neighborhood – easy to find and in the heart of the Island. The White Heron and the Nantucket Theatre Institute are currently led by Lynne Bolton as Founder and Artistic Director and Michael Kopko, Executive Director who can also be found on stage and in the director's chair. Together these visionaries speak to audiences through classical, contemporary and new plays on the stage of the theatre.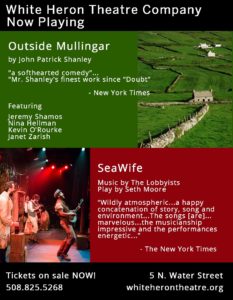 Late in July, you can see "Outside Mullingar" by John Patrick Shanley. This is an Irish comedy that takes place in rural Ireland where Rosemary steps into a land feud and family quirkiness of her neighbor, Anthony. The New York Times call this "Mr. Shanley's finest work sine "Doubt"".
White Heron's first musical of the season also appears late in July. "Seawife" is an original musical by Seth Moore with music and lyrics by The Lobbyists. The show is inspired by stories from old Nantucket's sailors and captains who sailed whaling ships.
Then at the very end of July and continuing into August, the Nantucket Theatre Institute (NTI) students are on stage to present a family-friendly version of William Shakespeare's "The Tempest". The students work and learn from the NTI educators and White Heron's Equity actors for four weeks before the curtain rises on the production. A special performance on August 3rd at 10:00am will be presented in partnership with Autism Speaks. This special show has been adapted to be a sensory friendly production.
If all this culture works up your appetite – head on over Nantucket Culinary, just across Broad Street. Nantucket Culinary has opportunities for you to learn and sample some wonderful, fresh foods. In fact their main idea behind the creations coming from their kitchen is "good food, served simply and cleanly". The Corner Table Café, on the lower level is open from 7am to 9pm daily and offers a family-friendly dining both inside and out on the pet friendly patio. This special restaurant is located in a restored home at 22 Federal Street.
Nantucket Culinary offers cooking classes and "lunch at the chef's table". Chef Greg Margolis, a graduate of the CIA, and his wife, Joy Margolis, would love to have you dine at the chef's table Mondays or Fridays all season long. These special lunch experiences educate you about the fresh foods used that day while you savor every bite of the meal. Other classes this season include "Thai cooking with Kwan", "Walk the market with Chef Greg", "Bubbles, Bites, and Blooms with Alice's Table", and "On a Lobster Roll – Dinner with Sarah Leah Chase". There are kids classes too! "Kids in the Kitchen – sous chefs – 10-14 year olds" and "Farm to Fork class for kids (6-9 year olds)".
Make your plans now for a late July or August getaway to Nantucket Island, MA.