The Brass Lantern is open for the 2022 season – and we are looking forward to a banner year!
Restrictions have been eased although masks are still required on ferries, planes, busses as well as in terminals. Conditions may still evolve over the season, so for the latest, please visit the State covid information page for updates. If you have questions or concerns regarding your stay, please call the Inn at 508-228-4064.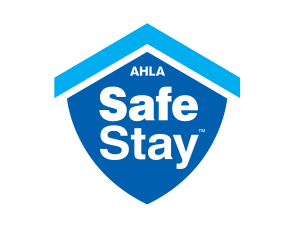 At the Brass Lantern, we have evolved the way we operate post-covid – communication via text message (fresh towels? – done!), and a new way of offering breakfast – no buffets for now but made to order continental breakfast trays! Our room decor has been simplified by removing magazines and extraneous material.  Our housekeeping methods – while always thorough and praised by guests – follows the American Hotel and Lodging Association (AHLA) covid-specific cleaning protocols for sanitizing and disinfecting. We are proud to join the Safe Stay initiative which is designed to standardize the hotel industry's cleaning and safety protocols to ensure both hotel guests and employees are confident to work and stay.
On Nantucket, restaurants (and shops) are open. To increase the amount of outdoor dining space, the Town has closed several streets to create European-style dining plazas for more delightful outside dining. Restaurants are now able to serve inside and you can also order your lunch or dinner for take-out to dine back at the Brass Lantern on the Patio or in the Dining Room. We will continue to update changes as they evolve.
Nantucket is still here and a Nantucket holiday this year will offer lots of time exploring the miles of beaches, bike paths and the miles and miles of walking trails in our conservation lands. Did you know that 50% of Nantucket Island is conservation land?
See you on Island – and stay well!