Christmas Stroll on Nantucket, December 4 – 6, 2015, just keeps getting better! Stroll was started 42 years ago as a way of showcasing the local merchants to the Island for local, early Christmas shopping and over the years, it has grown into a 'must do' Nantucket event for visitors and residents, year-round and seasonal alike.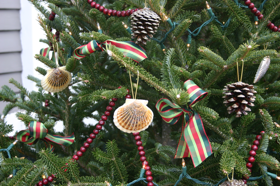 Starting the day after Thanksgiving, we begin to decorate the Brass Lantern both inside and outside. Traditionally, we use natural, locally harvested, decorations on our tree – scallop shells (after soaking overnight in a bleach-water bath), and pine cones collected at Tupancy Links and Sanford Farms, together with wooden cranberry garland and festooned with ribbon bows!
Now, for the 10 reasons to come to Stroll:
See the Festival of Trees in the Whaling Museum – over 100 trees turn our museum into a winter wonderland.
Visit the Nantucket Lightship Basket Museum – featuring the work of local weavers and your only chance to see contemporary artists' work for sale in one place. Free admission, weaving demonstrations and refreshments.
Annual Christmas Stroll Craft Show at the Preservation Institute, upstairs at 11 Centre Street. Artwork, jewelry, knits, pottery, ornaments, cards, woodwork and more sold by Nantucket's favorite artisans.
33rd Annual House Tour in Town.  This year, houses on Main, Fair, Pine and Charter streets will be open for the tour and, on your way back to the Brass Lantern, finish at the Whaling Museum for refreshment and the Festival of Trees. Read more about the House Tour here.
See A Christmas Carol at the Theatre Workshop, just up the street from the Brass Lantern. This a a musical adaptation of Charles Dickens' classic holiday story.
Multiple church fairs – with a plethora of hand made gifts, ornaments, treats and refreshments – St Mary's on Federal Street, St. Paul's on Fair Street and the Unitarian Church on Orange Street – will all have fairs on Saturday, December 5.
Many walking tours – a great way to learn about other aspects of the Nantucket you thought you knew….Fabulous Mansions of Cliff and Brant Point, Pirate Walk to the Lighthouse – Tales of Pirates, Shipwrecks and Ghost Ships, Fifty Shades of Fabulous – the Story of Nantucket, Children's Ghost Hunt in Nantucket Town.  More details about the walking tours and all the event can be found at the Chamber of Commerce site.
Open House at the spanking new Nantucket Culinary Center, just a block from the Brass Lantern. The Corner Table, the cafe at the Culinary Center at 22 Federal Street, promises to be the next hot place to meet in Town.  The open house will be from 10 – 3 on Saturday and will include tasty snacks, cooking demonstrations, tours and information on upcoming classes.
SHOPPING!  The shops and galleries in Town are all open, celebrating Stroll with refreshments and warm welcomes – and offering their great 'stuff' at end of year special Stroll prices.  Get out of the mall and come to Nantucket for truly great bargains and beautiful and unusual gifts!
The traditional Stroll panoply of events – 

Nantucket's Own Christmas Market – 10 – 3 Saturday, bottom of Main Street. "Meander through our Island version of the wondrous European Advent Market and celebrate the enchantment of the season."
Main Street Stage Entertainment – 11 – 11:45 Saturday – various musical performances
Main Street Stage – 11:45 am – Town Crier rings in Christmas Stroll!  Follow him down to Straight Wharf to welcome Santa who will arrive via Coast Guard cutter.
Join the subsequent parade up Main Street to the Jared Coffin House where Santa will be ensconced for the afternoon.
Top of Main Street, 1 – 3 pm Saturday – Magical Talking Tree.  You have to see it – and talk with it – to believe it!
At the Dreamland, 3 pm – Nantucket Ballet presents The Nutcracker.
If you can't get to Stroll this year, put it on your calendar for next year – December 1 – 4, 2016.  We still have some availability at the Brass Lantern for a two night stay if this year works for you.
Happy Stroll!