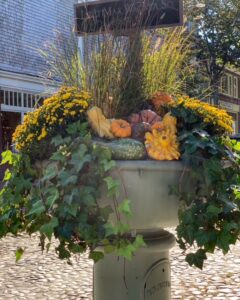 According to Islanders and frequent Nantucket visitors, fall is the BEST time to visit. The weather is what most New Englanders consider to be "ideal", the Island is less crowded and it is easy to avoid congested streets, packed beaches, and long waits at restaurants and shops.
So let's talk fall on Nantucket for Islanders…
In lieu of the traditional Annual Cranberry Festival, the Nantucket Conservation Foundation is offering guided tours to celebrate and see the living history of Cranberry growing at the Milestone Cranberry Bog on Nantucket. Join Interpretive Education Coordinator Neil Foley & Cranberry Bog Manager Nick Larrabee as they guide you through the bogs and educate you on the harvesting and history of America's founding Fruit. Walking tours are open to the public and free of charge. Click to learn more and register!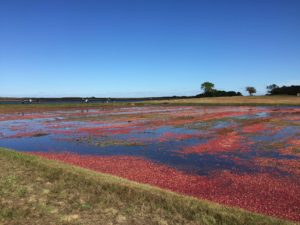 On Nantucket, we are fortunate to be surrounded by some of the best fishing in New England, suitable for new anglers to the seasoned fishermen. From inshore, bottom fishing, and offshore – all you need is a rod, some good bait, and…patience. Nantucket offers fishing charters for an enjoyable day out at sea. As you walk the shorelines, you may find women, men, and children out casting a line and there's a great chance they are participating in the annual Nantucket Inshore Classic. This is a five week fishing tournament to see who can catch the biggest fish in the four categories of species: Bluefish, Striped Bass, False Albacore and Bonito. The Inshore Classic is not only fun for the the Island community, but the event also raises money for the Nantucket Angler's Club Scholarship fund.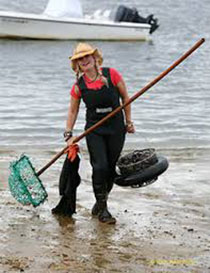 A true sign of fall on the Island is family recreational scalloping season. You may see scallopers in their waders, a push rake, inner tube and bushel basket in the hunt for raised scallops. In order to participate, one must obtain a shellfish license. For more information on recreational scalloping, read one of our past blogs on Scalloping on Nantucket.
Historic and haunted house tours are perfect fall activities. With the former, you will learn the history of the whaling town and walk up and down the cobblestoned streets rich in history and stories to tell, and the latter is an evening stroll to five of the island's most haunted locations on Island. Click to view the schedule and other Island happenings.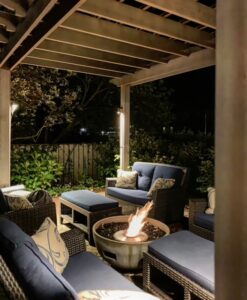 While the locals and seasonal workers, take this time to catch their breath from a busy summer season, this is also a wonderful time for our visitors. Our Inn not only has cozy nooks, and comfortable guest rooms, our outdoor space is a great place to relax and unwind. Outfitted with plenty of outdoor seating and a fire pit, you can curl up with a cup of joe, read that book you have been wanting to finish and IF YOU HAVE TO do a little work, that's okay, we have great work spaces around the inn and reliable wi-fi, but make sure to balance the day with some play! So pack yourself a bag for 2, 3 or 4 nights, and take advantage of our fall offer. Use the code SIF2 for a two night stay and save 15%, SIF3 for a three night stay and save 20%, or SIF4 for a four night stay and save 25%.