Peter and John is filming on Nantucket and making Nantucket news.  Peter and John, a story set in nineteenth ­­century France by Guy de Maupassant, is being adapted into a film based on Nantucket during the same time period. Independent film maker, Jay Craven, has been on Island for a couple of weeks with his crew and cast turning Nantucket neighborhoods into a very credible 1870s Nantucket between the end of the Civil War and prior to the rise our tourism.  The bustling crews, a mix of professionals and students, lend a welcome buzz of activity after the long winter.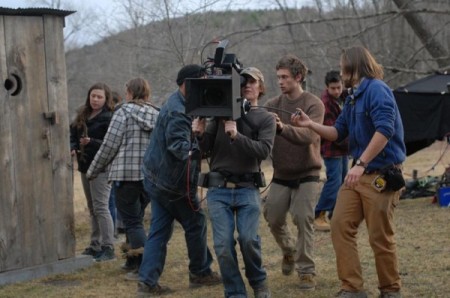 Nantucket has the largest collection of pre-Civil War buildings in the country and was a natural choice for filming. The extensive water and sewer infrastructure work, in its second winter, has stripped the asphalt and cobbles from several in Town streets and the fierce winter weather has contributed puddle filled potholes – the results of which make us all feel that we are living in the 1870s!
The movie is about two brothers whose relationship becomes strained when the younger brother receives a strange inheritance and is more complicated by the arrival of a mysterious young woman to whom both are attracted.  The movie will star Jacqueline Bisset, British actor, Christian Coulson, Gordon Clapp (of NYPD fame) and Spanish actress, Alicia Sanz.  Members of Nantucket's theatre community, including Susan McGuiness, Chuck Gifford and other Theatre Workshop favorites will also be in the movie. Peter and John is being produced through the program Movies From Marlboro, developed by Craven as a partnership between his Kingdom County Productions and Marlboro College where he teaches, that partners mentors and students in an intensive semester of instruction and filmmaking.
The filming will continue into May.