Nantucket Island is absolutely enchanting during the holiday season! Nantucket Noel is a month long holiday celebration starting with the Cold Turkey Plunge, peaking with the Annual Christmas Stroll weekend, several weeks of great Christmas shopping and culminating with Nantucket New Year's!
The Annual Cold Turkey Plunge will take place on Thanksgiving Day, Nov. 23, 2017 at 9:30 AM – 10:30 AM. The plunge is a fundraiser for the Weezie Children's Library at The Nantucket Atheneum. The 'plungers' raise funds by convincing their friends and neighbors to sponsor their dip in the harbor at Children's Beach – an easy walk from the Brass Lantern Inn. The participants work to win prizes for best costume, most money raised, and largest group participation. Participants in this event include local business people and residents, and even some well-known and famous characters – like Joe Biden as an example. You too can participate or simply watch this fun start to Thanksgiving Day.

On November 22, & 24-26, 2017, the Nantucket Historical Association helps to kick-off the holiday season with the Festival of Wreaths. Local businesses, non-profit organizations, schools, and residents create traditional and some unconventional wreaths. The wreaths are then sold at a silent auction with the proceeds benefiting the Historical Association's programming throughout the year.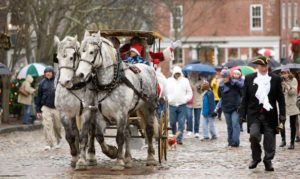 Christmas Stroll weekend, December 1-3, 2017, will attract visitors from around the world. As part of the festivities, a Coast Guard vessel will transport Santa and Mrs. Claus to the island and these guests of honor ride up Main Street in a horse-drawn carriage accompanied by the Town Crier. Main Street is decorated with hundreds of lighted Christmas Trees and a huge tree is decorated at the top of Main Street.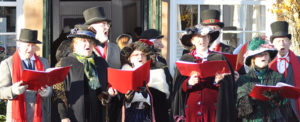 Main Street is closed to traffic on Saturday as carolers in Victorian costumes, bell ringers, student choirs, and other musicians perform on the Main Street stage. While visitors enjoy Nantucket's unique shops and restaurants, the carolers stroll through town performing familiar Christmas tunes. The Festival of Trees can be found at the Nantucket Whaling Museum. More than 80 trees are designed and decorated in unique and special fashions.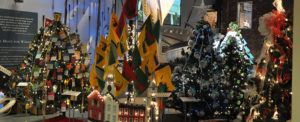 As you already know, Nantucket Island is very pet-friendly! The Christmas Stroll is also open to your canine family members! On Sunday, December 3, 2017, have your pet's picture taken with Santa. The $25 photo fee is a benefit for Nantucket Island Safe Harbor for Animals.
Join us for all of these holiday festivities on Nantucket Island. Make your reservation at the Brass Lantern Inn and bring your canine family member along for this special season.