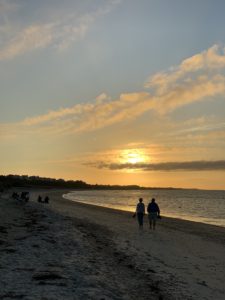 Whether you are a sunrise or sunset chaser, Nantucket offers some of the most stunning sunsets with a magnificent ocean backdrop. While a candy-cane colored sky is magical, we also can't get enough of a fiery red and orange filled sky.
Many of us might find it hard to wake up before dawn to catch a sunrise (even though it is worth it), but almost everyone is awake to chase those beautiful sunsets.
First things first to make the most of your experience, you will want to grab a blanket or a beach chair. We offer guests both to borrow, just ask! You will want a nice bottle of chilled wine, which can be provisioned at Current Vintage Nantucket, and don't forget your camera or smart phone to capture the sun dipping into the horizon. You'll keep the photos forever, as a memory of your visit to the beautiful island of Nantucket.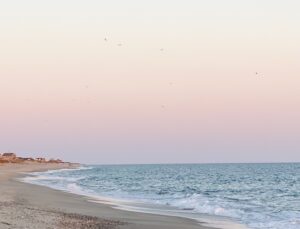 While there are many spots on the island to watch the sunset, here are three of our top favorites:
Madaket Beach is located on Nantucket's West End. You are guaranteed to have panoramic views of the sunset. Millie's is a seasonal casual/family restaurant and guests can enjoy a taco and margarita pre or post the sunsetting. Let's be honest…Tacos and sunsets = the perfect combination.
Galley Beach is the closest to get to from Brass Lantern and one of the prime locations for a sunset. You have the option to dine there, if you are looking for a fancy dinner night out, but the long stretch of beach also allows for you to sit and relax and be far enough away from the dinner scene.
Smith's Point also located on the far western end of Madaket over Millie's Bridge, is another island gem. You'll find charming cottages along the shoreline. This more secluded beach is the perfect place to unwind and take in all the island's beautiful surrounding.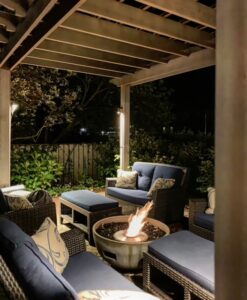 Head back to the Inn and relax by our outdoor fire pit and waiting for you in the dining room will be house-made cookies and warm tea to end the perfect evening on Nantucket. (By the way – chasing sunsets is a year round activity).