Okay, we get it, sometimes traveling with your dog can be a hassle. From where to eat out or where to stay, it can be a lot of work planning a vacation with your furry friend!  Luckily, Nantucket Island is super dog-friendly and makes it incredibly easy for Fido to join you on your favorite beach vacations! For a place to stay,  the pet-friendliest place to stay on Island is the Brass Lantern Inn.
For dining, here are our five favorite ways to wine & dine on Nantucket's numerous dog-friendly restaurants and patio seating options.
1. LoLa Burger
Looking for the best way to eat out on Island with your dog? Look no further than LoLa Burger,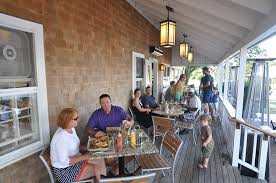 hip burger joint with both craft burgers and craft beers. Enjoy their outdoor patio with your well-behaved pup, as it is the perfect place to relax after the beach with a cold brew!
Oh, and make sure to sneak Fido a bite of that oh-so-juicy burger – it's too tempting to not.
2. Sandbar Jetties Beach
Nothing speaks to the quintessential beachfront dining experience than Sandbar at Jetties Beach. The restaurant has an outdoor dining patio, as well as plentiful seating in the surrounding sand if you want to just grab a drink for yourself and throw a ball around for your pup. If you're dining, try the delicious raw bar or fresh-catch plates.
Paired with live music and a view of Nantucket Sound at sunset – it doesn't get much more "Nantucket" than this!
3. Tree Bar
Tucked in between Town & Queequegs, Tree Bar is an al fresco dining hotspot in a classic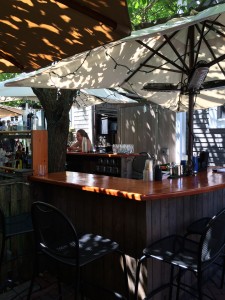 Nantucket setting. Take advantage of a delicious brunch or upscale dinner on their cozy (pet-friendly!) patio and outdoor lounge setting. If you are looking for romantic, this is your spot.
Dine under the twinkling lights in the heart of historic downtown and savor the night with sparkling wines and fresh, seasonal seafoods. It's a must for the summer months!
4. Bartlett's Farm
There is no better place to explore the natural bounty of Nantucket than Bartlett's Farm out near Cisco. It's the best spot on island to grab some farm-to-table lunch for yourself, and some doggy treats for your pup, and enjoy the picnic tables in the shade around the farm.
And while you're in the area, check out some cool live music and summertime sips at Cisco Brewers. This island hotspot never disappoints…and there are always tons of pups here to join the party!
5. Beach Picnics
Beach picnics and pups pretty much go hand in hand on Nantucket.
Some of our favorite pairings are Madaket Beach & Millie's take out (go at sunset), Surfside Beach & Krabby Pattys from the Surfside Beach Shack, and Steps Beach and sandwiches from Something Natural.
Personally, we loved an early morning at Steps Beach before the crowds arrived. It's one of the most pristine, quiet beaches on Nantucket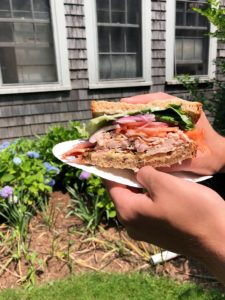 island and perfect for an off-leash morning walk, followed by sandwiches at Something Natural once you've worked up an appetite. Luckily, the sandwiches are ginormous enough that fido can share a bite, too!