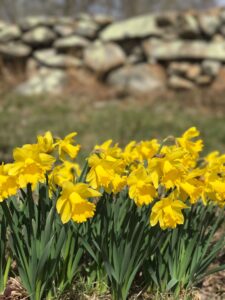 The first pop of yellow from the ground reminds us that spring is just around the corner. While winter on Nantucket is considered relaxing and romantic and there is nothing better than a snow covered Nantucket, we always look forward to spring – the re-awakening of our Island. Here are a few reasons, why we love spring on Nantucket.
The annual Daffodil Festival is one of the Island's unique events thats been around for 46 years! The festival started back in '75, when it was officially declared as "Nantucket Daffodil Weekend". Beginning of 1978, the Garden Club planted tens of thousands of daffodil bulbs all around the Island, and with its natural spread, now there is an estimated 2 million daffodils that blooms in the spring. This was also the year that the antique car parade followed by a community tailgate picnic in 'Sconset was added to the weekend festivities. Over the years, the festivities have grown to include art shows, a pet show, Daffy Hat Contest, the famous antique car show, and, of course, the Garden Club's annual Nantucket Daffodil Flower Show. After a two year hiatus of in person activities due to COVID-19, and two virtual celebrations later, we are ecstatic to have all of the events back in person. Click for more information.
The Nantucket Food and Wine Festival is an event for the foodies and wine lovers from all over the world. Nantucket is known as a culinary destinations, and over the years, the Nantucket Wine Festival has blossomed into one of the nation's most celebrated wine and food events. This event provides opportunities to sample some of the finest wines and the most delicious food.
Nantucket is your playground during this shoulder season. There is plenty of dining options available to choose from and far less traffic, which means there's an ease of getting around the Island to explore. Shop, eat, drink, bike, walk, visit an art gallery, wander through the Whaling Museum... all at your own pace. Buy the latest Elin Hilderbrand novel from Mitchell's Book Corner, head back to the Inn and curl up in you cozy room while enjoying our house-made afternoon cookies.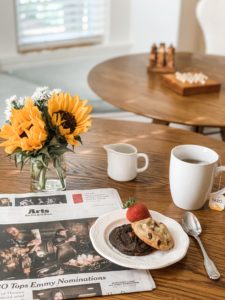 Spring is the perfect time of year to visit Nantucket and we look forward to welcoming you! To make a reservation, CLICK HERE.