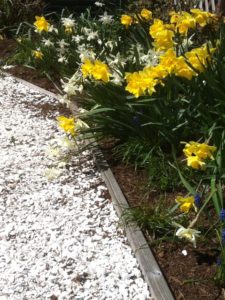 Springtime brings thoughts of sunshine, flowers, and warmer weather. And when you think of spring flowers, of course the daffodil is one flower that "blooms" in your mind. The bright yellow color of many of the common narcissus is a sure sign that brighter days are ahead and it just seems like a happy color. They may be the most popular spring blooming bulb because they are so easy to cultivate and they multiply easily.
This sunny bright flower is included in the families of Jonquil, Paperwhite, Narcissus, and 'Poet's Hower'. In fact, the poet William Wordsworth put pen to paper, writing "Daffodils" or "I Wandered Lonely as a Cloud" for the love of these beauties dancing in a breeze.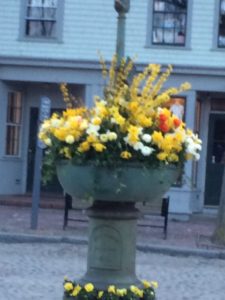 There are many little-known facts (or stories) about the flowers we celebrate here on Nantucket. As an example, squirrels will not eat the bulbs because the bulbs contain poisonous crystals that certain insects can eat, but mammals should avoid. It's important to keep your pooch from digging up and eating the daffodil bulb.
Daffodils contain a sap that is toxic to other flowers. You should avoid mixing other cut flowers with them unless they have been cut and standing in water for 24 hours. Then do not recut the stem as you would most flowers to freshen the water intake, because that will cause the sap to release again.
The ancient Romans loved and cultivated daffodils but then they fell out of favor with the Romans for some time. In about 1629, some Englishmen found some specimens and brought them back to England where they became popular in many gardens.
These are a few of the reasons why all of Nantucket celebrates this trumpeter of spring!
Join us April 28-30, 2017 for the Daffodil Festival on Nantucket. There are activities for all ages and interests. For the younger attendees, there will be a Children's Parade in which the young participants decorate their bikes, wagons, strollers, and peddle cars with all types of daffodils. For car enthusiasts, the Antique Car Parade (complete with daffodil accessories) will be the event to see. Follow the Antique cars through town and across the island to Siasconset for the Daffodil Tailgate Picnic!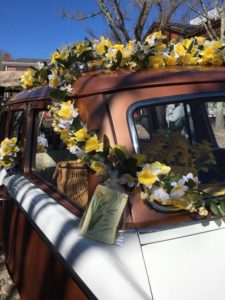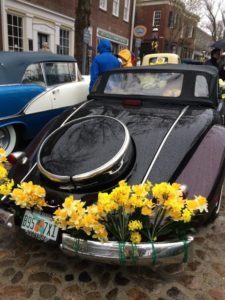 All of Nantucket is dog-friendly – as is our inn! A favorite event of the weekend is the Daffy Dog Parade when our canine friends "strut their stuff" all decked out in daffodils! Bring your favorite pup to participate in the parade too.
Of course when there is a festival focused on flowers, there must be a Flower Show! The 43rd Annual Community Daffodil Flower show opens on Saturday, April 29, 2017 at 2:00 pm. There are entry classes for Flower arranging, photography, and horticulture. All members of the community are encouraged to enter this show held at Bartlett's Farm, sponsored by the Nantucket Garden Club and approved by the American Daffodil Society. Admission is free for this show.
The schedule for the Daffodil Festival is jam packed with tours, exhibits, parades, and picnics. Local businesses offer special treats and hours during this special weekend. Come stay at The Brass Lantern Inn and be in the midst of all the fun and activities during this special springtime flower festival.